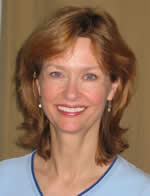 Barbara Kennedy is a life-long teacher with a B.A and M.A. in music education. She was a public school teacher and accomplished musician when she discovered yoga and meditation in 1985. After a 3-year intense study program at the prestigious
Himalayan Institute
in Pennsylvania, Barbara received her Yoga Teaching Certification.
This certification requires 2 years of yoga study before applying for the program. It also requires an established meditation practice, courses in anatomy, philosophy, psychology, meditation, diet and nutrition, and passing written and oral exams.
A diligent, curious student, Barbara attended the institute's extensive seminars in holistic health, including homeopathy and Ayurveda. During her residency she taught yoga, breathing and relaxation classes, and assisted in teacher training seminars.
Barbara started YOGAworx in 1995, upon her return to Indianapolis and has been sharing her techniques of yoga and meditation in classes throughout the Northeast side of the city.  Her personable, spiritually-charged approach has made her a sought-after instructor, developing long term associations with such local entities as DOW Agrosciences, and MSD Washington Township. She has been featured in the Indianapolis Star, the Indianapolis Business Journal, and Indianapolis Monthly.
Beyond the Studio
Since earning her Yoga Teachng Certification, Barbara has appeared in numerous magazines and radio interviews. Below are a few of her recent appearances:
Wow… what a great interview with you and Alix… she is a great interviewer and you a great interviewee!
You two as a team surpassed most interviews and teachings i have struggled thru…if I compare you to some of the great teachers… Tara Brach, Jack Kornfield and Echaert Tolle… all who put me to sleep…. you guys woke me up!!
You and Alix got right down to it and had something to say without a lot of boring filler info. Your voices were clear and communication stellar and easy to listen to with simple information. KUDOS!
I am once again so proud to know you.
~ Suzi W