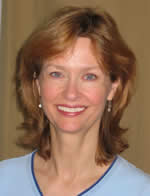 Barbara Kennedy is a life-long teacher with a B.A and M.A. in music education. She was a public school teacher and accomplished musician when she discovered yoga and meditation in 1985.After a 3-year intense study program at the prestigious
Himalayan Institute
in Pennsylvania, Barbara received her Yoga Teaching Certification. A diligent, curious student, Barbara attended the institute's extensive seminars in holistic health, including homeopathy and Ayurveda. During her residency she taught yoga, breathing and relaxation classes, and assisted in teacher training seminars.
Barbara started YOGAworx in 1995, upon her return to Indianapolis and has been sharing her techniques of yoga and meditation in classes throughout the Northeast side of the city.  Her personable, spiritually-charged approach has made her a sought-after instructor, developing long term associations with such local entities as DOW Agrosciences, and MSD Washington Township. She has been featured in the Indianapolis Star, the Indianapolis Business Journal, and Indianapolis Monthly.
This certification requires 2 years of yoga study before applying for the program, an established meditation practice, courses in anatomy, philosophy, and psychology, meditation, diet and nutrition, and passing written and oral exams.
Hear a radio interview with Barbara  or, visit AnotherDayofLiving.com and find the audio from her August 11, 2012 appearance, or pick up a copy of the Summer 2017 issue of Indiana & Yoga where the article "Hoosier Yogi" explores her experience and journey.